Human Resources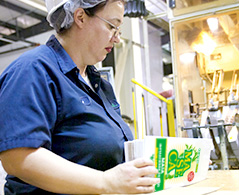 HUMAN RESOURCES
At Azteca Milling, we consider our people our most valuable asset. We make every effort to select only the best candidates so that both staff and company achieve shared goals working as an efficient, professional team.
Azteca Milling offers career opportunities in most major areas – including sales, finance, operations, and administration – at many of our plant locations or at our Corporate Headquarters in Irving, Texas. We also welcome independent distributors interested in becoming an Azteca Milling distributor.
Equal Employment Opportunity
AZTECA MILLING LP as a Company of GRUMA maintains a continuing policy of non-discrimination in employment.  It is our policy to provide equal opportunity to individuals with disabilities and protected veterans in all phases of the employment process and in compliance with applicable federal, state, and local laws and regulations. This policy of non-discrimination shall include, but not be limited to, the following employment decisions and practices:  hiring; promotions; demotions or transfers; layoffs; recalls; terminations; rates of pay or other forms of compensation; selection for training, including apprenticeship; and recruitment or recruitment advertising.
Employees and applicants of AZTECA MILLING LP will not be subjected to any form of harassment or discrimination for exercising rights protected by, or because of their participation in an investigation or compliance review related to, the Americans With Disabilities Act, Section 503 of the Rehabilitation Act of 1973, the Vietnam Era Veterans' Readjustment Assistance Act of 1974, the Veterans Employment Opportunities Act of 1998, or any other federal or state non-discrimination law, rule, or regulation. 
AZTECA MILLING LP also maintains affirmative action programs to implement our equal employment opportunity policy for disabled individuals and protected veterans.  Employees or applicants who wish to review GRUMA's affirmative action program for disabled individuals and protected veterans may schedule an appointment to do so by contacting Jorge Castro at (956) 383-4911 during normal business hours.