Ingredient Technology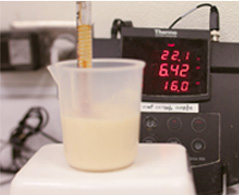 INGREDIENT TECHNOLOGY
Azteca Milling has over thirty flours specifically designed for ingredient technology applications. Product applications include batter/breading, baked foods, crackers, soups, dips, and a variety of coating applications.
Corn masa flour used in batter/breading applications demonstrates functional advantages in viscosity control, batter adhesion, and provides a unique Mexican corn flavor.
Baked food applications include improved functionality in product texture, flavor characteristics, and color, as well as providing unique marketing opportunities. 
Soup and dip applications include viscosity control and flavor enhancement. 
Coating applications include advantages in adhesion, texture, flavor impact, and viscosity control.
Additionally, yield enhancement, opacity, texture, and emulsifier characteristics have all been realized in certain applications.
Let Azteca Milling customize a corn masa flour for your company's application (using our patented corn cooking and milling process) that will perform when and how you want it. Contact your sales representative for additional information and learn how Azteca Milling's ingredient technology adds value to your finished goods and profits to your bottom line.