Seminars, Training, Tips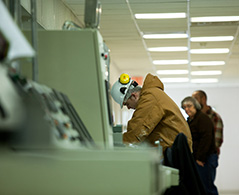 SEMINARS, TRAINING AND TIPS
Azteca Milling offers free on-site seminars, training, and tips customized to your needs.
Seminars: Our highly-trained and experienced personnel are available to provide seminars at your facility. The seminars can be tailored to your specific needs – from covering basic issues and procedures to discussing customized production runs. Your company will benefit from our years of expertise as we show you how to optimize your production process to make finished products that consistently meet and exceed your expectations. 
Training: Another valuable service we offer our clients is on-site training. Azteca Milling experts will work with you to provide the necessary training to meet your goals for dough machinabililty, flexibility, and consistency. Using your machinery and personnel, our experts will show you how to manage and control the many variables that affect the quality of your finished products, which has a direct impact on profitability. We can also analyze your processes to determine possible cost efficiencies.
Tips: During a visit to your facility, experienced Azteca Milling representatives will be happy to offer advice and tips on how to improve processes, procedures, and finished products.